Fellow transatlantic expat blogger
Betsy Transatlantically
recently posted a run down of the worst Christmas songs ever. Reading it set off a little (sleigh) bell in my mind. Remember this chart from
XKCD
?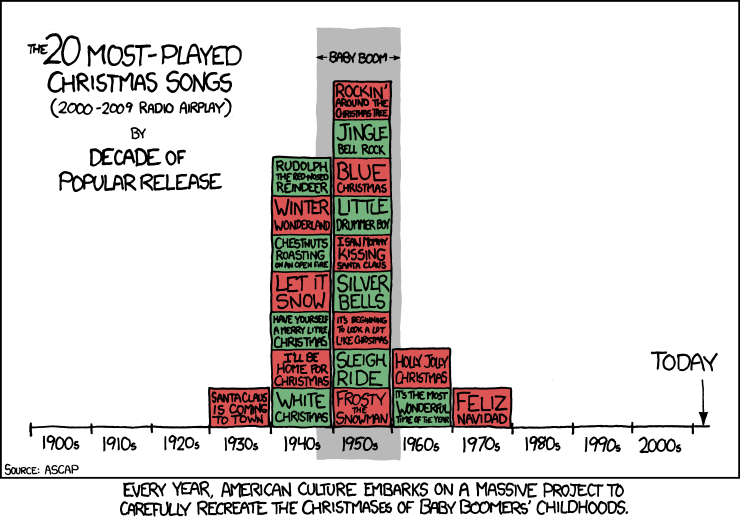 Randall Munroe of XKCD's analysis of the USA's favorite Christmas tunes
This is totally alien to me. Or it was until I spent my first Christmas in the USA, and it struck me how old-timey American Christmases are. As a Brit I
know
all of these songs, but it's not what I grew up listening to on the radio during the festive season.
So I had to do a little experiment. I've recreated Randall's graph with recent data for both the UK and the USA:
My own analysis of the UK and USA's favorite Christmas music 2010-2012
A little word about the data: I used
ASCAP's data for 2012
, and
PRS for Music's data for 2010 - 2012
. I know this doesn't stand up to scientific scrutiny, but I swear this will probably be the only time I'm recreating a graph based on work by Randall Munroe.
The point is that I was right: Christmas in the USA
is
very old-timey. The UK isn't all that modern either, but I find this utterly
fascinating
. It says a lot to me about American and British culture.
I do think I'm reading too much into this, but at the same time I have a hunch about these countries' respective cultures. Much of modern US culture leaped into being during the 1950s, and many of the things we associate as 'American' can be attributed to this time - the food, media, habits and lifestyle.
The UK is slightly different. My husband suggested that the USA clings more to heritage because it has less history to draw from, whereas the UK is a much older country with a huge historical repertoire to cite when it comes to tradition, so perhaps it's a little more confident to go with the flow.
But that, to me, doesn't explain why the UK is stuck in the 1970s and 80s with regards to Christmas tunes. I'd love to postulate that it could be related to the way the UK responded to the economic crises of the 1970s and 80s. I'm a big fan of the art and culture (especially movies) that resulted from this period in the UK.
But to come to that conclusion I'd have to look at the popular Christmas radio songs in the UK before the 1980s, and find the tipping point for when British Christmas musical tastes really changed. And I'm not going to do that right now.
Instead I'm going to watch old Top of the Pops Christmas re-runs and
dance like Shakin' Stevens
for a bit while my husband looks on without comprehension.
The questions now are: What's your favorite Christmas song and when was it released? What will our kids listen to? And if I raised my kids on 1980s Christmas tunes would they turn out to be cultural misfits?
Title of this blog post is a lyric from the greatest Christmas song ever, Slade's Merry Xmas Everybody.
PS - I have a guest post over at the wonderful
Grits and Moxie
today, where
I talk about another cute UK Christmas tradition
!